First-ever Commercial CubeSat "G-SATELLITE", Handed over to JAXA
Last Updated: January 9, 2020
On December 5, 2019, G-SATELLITE, to be the first commercial CubeSat from the ISS Kibo, was delivered to JAXA at Tsukuba Space Center by Space BD Inc., who is one of the first commercial entities to provide CubeSat deployment service from Kibo.
The Deployment of the G-SATELLITE is a milestone in the transition toward full commercialization of Kibo CubeSat utilization which has been currently promoting by JAXA. Since selection of the first commercial entity in 2018, JAXA has solidly prepared for privatization including forming specific protocols and transferring technical expertise with the entities. Finally, the commercial CubeSat was handed over from Space BD Inc. to JAXA in the early December 2019. This marked the great step toward full commercialization of Kibo facilities and platforms. G-SATELLITE will be deployed from the ISS Kibo in the spring of 2020.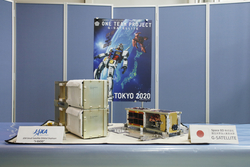 【Name of satellite】G-SATELLITE [size: 3U]
【Organizations】The University of Tokyo
【Service Provider】Space BD Inc.
【Mission】This CubeSat is designed for transmitting visual data of Tokyo 2020 Olympic messages in three languages, from space to the ground. These messages are displayed on an electric bulletin board attached to the CubeSat. And, two popular figures of a world-famous animation, Mobile Suite Gundam and Char's Custom Zaku, will be shot together with the messages with the seven onboard cameras. These images will be downlinked to the ground before and during the Tokyo 2020 Olympic and Paralympic Games.
Related Topics