Satlantis delivered a payload "iSIM" to JAXA for foreign private company's first i-SEEP mission in early spring 2020
Last Updated: December 27, 2019
On December 16, 2019, Space BD Inc. delivered the payload Integrated Standard Imager for Microsatellites (iSIM) to be mounted on Kibo's Exposed Facility (EF) as a IVA-replaceable Small Exposed Experiment Platform (i-SEEP) payload to JAXA at the Tsukuba Space Center. Operation preparation have been started for a technical demonstration in early spring 2020.
The iSIM is a camera developed by Satlantis (a Spanish venture company), which is designed to be mounted on a small satellite. It will be subjected to a technical demonstration on the i-SEEP.
Satlantis has projected this technical demonstration mission in contact with Space BD, Japanese space business company, which is promoting private sector's utilization of Kibo. Space BD is engaged in activities as service provider of the i-SEEP on behalf of JAXA.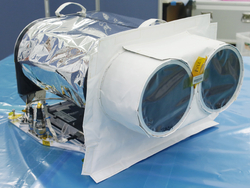 【Payload】Integrated Standard Imager for Microsatellites (iSIM)
【Developer】Satlantis, from Spain
【Commissioned operator for Kibo utilization】Space BD Inc.
【Mission】
A technical demonstration of an Earth observation camera to be mounted on a CubeSat
Related Topics